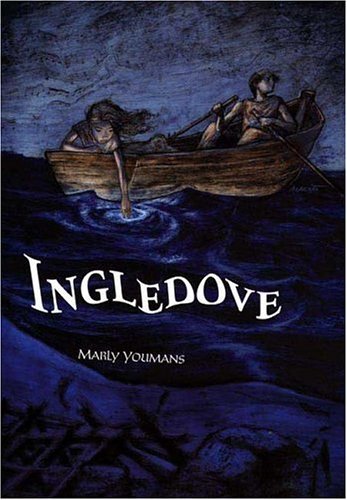 Farrar, Straus and Giroux, 2005
Pb: Penguin Firebird
Jacket image by Renato Alarcão.
Currently out of print in both hardcover and paperback
Praise from Diana Wynne Jones, author of the Chrestomanci books, Howl's Moving Castle, The Dalemark Quartet, and many others: "Ingledove is a marvelous book. I loved it and thought it was even better than Marly Youmans's first book about the magic land of Adantis, The Curse of the Raven Mocker, where the inhabitants and their magic are half Cherokee, half Border Celtic. I loved the way the Hidden Land materializes around you as you read as naturally as breathing. And the magic seems to arise almost as naturally--though it can be as sudden and cruel as a snakebite--and all of it is breathtakingly wonderful. Then, instead of leaving you simply gasping at her marvels, Marly Youmans has the courage and the good sense to point out that experiences of this order cause people to change. I really admired this book.

In this exceptional novel Youmans skillfully mixes Celtic, Appalachian and Cherokee mythology and language to create Adantis, a fantastic world, half hidden in nature. Abandoned by their father and orphaned at their mother's death, Ingledove and her brother Lang know Adantis only as a fairy tale world from their mother's stories. Yet when Ingledove's brother Lang is haunted by a beautiful serpent demon, the children must make the perilous journey to Adantis to free Lang from his deadly enchantment. There Ingledove discovers her mother's legacy, the powerful beauty of Adantis, and her own inner strength. Youmans' characters are compelling; the dialogue is unique, rich with invented vocabulary. Her prose, lush and evocative as fireflies, seems to lift from the pages. A simply beautiful novel.
Midori Snyder, Featured Fiction Spring/Summer 2005, at The Endicott Studio



What follows is a wonderful fantasy tale that can only be compared to J.R.R. Tolkien's work. In fact there is a wizard -- the Witchmaster --who leads a quest into a cave under a mountain and there is a monster stalking the heroes as well as little people and fairies. Don't assume, however, that because of the plot similarities to The Hobbit and Tolkien's other works that Youman's book is derivative in either plot or setting. This is very much an Appalachian book, and Youmans' poetic writing style is certainly her own.
In Youmans' capable hands, the story progresses and Ingledove grows with each challenge she meets. It's a character-drive tale with a strong plot filled with danger and threats but also with great beauty.Ingledove is a book that will delight and enthrall both young adults and adults who are young at heart.
Greg Langley, Books Editor, "YA titles include very good books," The Baton Rouge Advocate, 5 June 2005


Finally they must fight for Lang, their own lives and for Adantis, 'the soul of the planet, where all that once seemed a dark or a shining mystery has survived and flourished.' Ingledove is an unusual, lyrically written mix of fantasy and horror, enriched by familial love and the possibility of romance. Bookloons, 16 May 2005


In "Ingledove" she has created an Appalachian world as rich in nomenclature as J. K. Rowling's Harry Potter series. . . . And even more poetically written. . . . Youmans' description of fungi and fireflies in a luminescent garden is some of the most beautiful prose I've run across in awhile. . . . Their journey is both arduous and exciting, and I can imagine my 14-year-old granddaughter reading this, saying "I can't put this book down. I can't stop reading." . . . What an adventure of a book. What a fantastic read. Youmans is the author of several adult novels and most recently "The Curse of the Raven Mocker," with the same Western North Carolina setting as "Ingledove." Youmans grew up in Cullowhee, and in her young adult series she's writing from her roots.
Ruth Moose, "Youmans Weaves a Fantasy," in The Pilot, the newspaper of Southern Pines, Pinehurst, and the Sandhills region of North Carolina, 1 April 2005


Besides the richly imagined setting and history, this fantasy offers a sympathetic heroine involved in an exciting adventure. Booklist, May 2005

Youmans' wordcraft is both subtle and expressive ... Characterization is convincing—especially well drawn are the lonely Jarrett and Ingledove herself … Deft writing and the unusual yet down-home setting make this an engaging historical fantasy.
The Bulletin of the Center for Children's Books, 5 April 2005


Curse of the Raven Mocker (2003) felt as fresh as a mountain breeze. . . Ingledove,her latest, is even better… even adults fantasy fans should find it enthralling, especially if they're fans of Sharyn McCrumb.
Ben Steelman, Books Editor, The Wilmington Star-News 8 May 2005


I liked this book a great deal… I heartily recommend it. Galacticum.com July 2005


The intricate and unorthodox mythos is fascinating… Kirkus Reviews 15 April 2005
From
a Farrar, Straus and Giroux Press Release: Q and A with Marly Youmans, author of INGLEDOVE

Q: Your new novel, INGLEDOVE, like your earlier book, THE CURSE OF THE RAVEN MOCKER, is an unusual fantasy set in the southern United States and steeped in the mythology of Native American, Appalachian, and Celtic cultures. How did the idea for the story develop?A: The desire to write a story set in my own home region—the Carolinas, where I still visit several times a year—was natural. I had no desire to write a pseudo-European tale, and I felt that my background presented strong and complicated sources for a writer. In Cullowhee, North Carolina, I went to school with children from mountain coves and the then-remote region of Little Canada whose ancestors are commonly called Scots-Irish. We were only a skip away from the Qualla Boundary and the Cherokee. Back in high school, I often read material relating to both peoples—books of legends, James Mooney's fascinating accounts of the Cherokee, and all sorts of pieces about the mountain settlers. I couldn't know that I was preparing myself to write THE CURSE OF THE RAVEN MOCKER and INGLEDOVE.

My first daydreams about INGLEDOVE began with thoughts about the many towns and hamlets around Hazel Creek that were flooded by Fontana Dam, a place where my father liked to go fishing. A good many people are still enraged about the destruction of those habitations, the moving of cemeteries, and the difficulty in reaching what remains, an area often called the Back of Beyond. The image of the drowned lands was alluring. Engledove was the name of an early settler on the creek: an evocative name.

Later on I thought about a ruling creature for this book, in the way that ravens and the dangerous "raven mockers" had governed the last. And I started to dream about snakes and water serpents and great leviathans . . .

Q: Both INGLEDOVE and your previous young adult novel, THE CURSE OF THE RAVEN MOCKER, feature strong female protagonists who must
conquer evil in order to survive. What is appealing to you about a strong female lead?
A: I'll let Charlotte Bronte's Jane Eyre, a marvelous young narrator who is drawn to accomplishment and adventure, answer this question, at least in part:
Women are supposed to be very calm generally; but women feel just as men feel; they need exercise for their faculties and a field for their efforts as much as their brothers do; they suffer from too rigid a restraint, too absolute a stagnation, precisely as men would suffer; and it is narrow-minded in their more privileged fellow-creatures to say that they ought to confine themselves to making puddings and knitting stockings, to playing on the piano and embroidering bags. It is thoughtless to condemn them, or laugh at them, if they seek to do more or learn more than custom has pronounced necessary for their sex.
Though girls are no longer set to embroidering bags in 2005, they still desire much of what Jane Eyre wanted back in the nineteenth-century—to move and act in a larger sweep of life, to dare and go boldly, to lose and transcend and find themselves through heroic strivings. Through the dream of a book, a girl or a boy can lay aside the ordinary and yield to an imagined self. This dream-self will raise the standard for what it means to be human and will shape the world around its demands. And that is a kind of dream that's good—and thrilling—for all.
Q: In INGLEDOVE, the past holds insightful clues about the present and ramifications for the future. Does Ingledove control her own destiny, or are there other forces at work?
A: Ingledove makes her own destiny to this extent: she strives beyond what she thinks are her limits and reveals a true measure of her worth. Along the way she also finds brute facts and roaming powers that she must struggle to overcome, with help. Neither she nor the Witchmaster can permanently transform the world of Adantis or the one just past it, the world we know; evil and unfair suffering will not soon vanish from their lives or from ours. But Ingledove has, through heroic and sacrificial acts, reached a state where she simply contains "more life" than the rest of us can count on.
Q: Author Diana Wynne-Jones has referred to the "magic" of INGLEDOVE, observing that "instead of leaving you simply gasping at her marvels, Marly Youmans has the courage and the good sense to point out that experiences of this order cause people to change." Change is a theme that runs throughout the novel. Are these changes symbolic, metaphorical, or actual for the characters of INGLEDOVE?
A: Hmm, this one seems like a good paper topic for somebody else to write! I would imagine that all three come into play, but I think it is wicked for writers to go disemboweling their books to hunt for symbols and metaphors and themes. So I shall excuse myself and just say that in making Adantis I have drawn a kind of line that keeps out the world. On the other side, in the mountains of the Hidden People, things are neither politically correct nor perfect, but the land and its people are changed from our world in essential ways. To put it in the Witchmaster's words to Ingledove, If Adantis is lost, the whole of Earth might as well be lost. I've been in the world; I've crossed the seas and seen the towers and spires of the past. I've visited storehouses of treasure and libraries of rare knowledge pillaged from foreign kingdoms that are now no more. But Adantis is the soul of the planet, where all that once seemed a dark or a shining mystery has survived and flourished. Outside its borders the people think that they've mastered the zones of hemisphere and mind, mapped and stored life's innermost secrets. They're wrong—there's meaning free of their fiddling. There's a numinous, springing life that will forever be beyond the grasp of machines and men. Others have frittered away their souls and bartered what matters for the toys of the age. Not here in Adantis, where a soul lends light to each human face and where the rivers and mountains are still alive and restless with inexplicable beings. That's why it was worth laying my childhood on the altar of the Witchmaster; that's why I'm still guardian of Adantis. And I think it's why you were chosen by the Ulunsuti. Because it's in you to know and be known by this realm. To become someone who belongs here more than anywhere else.
Paperback rights: Firebird (Penguin Group USA, November, 2006)

Chinese (complex characters) rights: Sharp Point Press, Taiwan